Peat Free All Purpose Compost
BNM-9571d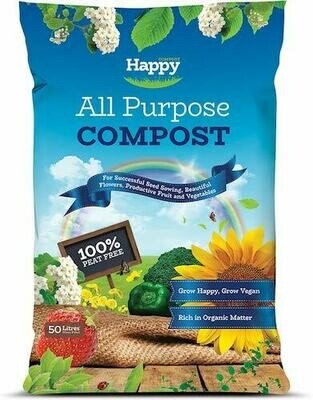 Compost & Manures
Peat Free All Purpose Compost
[tab name="Description"]
100% Peat Free & Vegan Friendly
Specifically developed as a premium peat free all purpose compost and the most eco friendly compost available.
100% Peat free
Vegan Friendly
Rich in Organic Matter
Suitable for all uses from seed sowing to potting and planting
The new Happy Compost Range from Bord Na Mona is the most eco friendly compost range on the market, the packaging is recyclable and made from 30% recycled plastics. The main components of the compost are made from either recycled material or by-products.
**** Not Sold for Resale ****

[endtab]
[tab name="Delivery"]
Choose Your Delivery Date
You will be able to choose your delivery date and service in the checkout, we can deliver most products next day if you place your order before 1pm (Monday to Friday).
How We Deliver
The bags of compost are delivered on a pallet, on curtain sided lorries with a tail lift and pallet trolley and are only guaranteed to the kerbside. Please note items may be delivered in multiple deliveries.
See our delivery details page for more information on our delivery service and Terms and Conditions. [endtab]
Uses:All Purpose, Seeds, Cuttings, Planting, Potting
Pack Sizes:Available in 50 litre bags
Peat?:Peat Free & Organic
Available Next Day:Yes (if ordered before 12.00)