Pro 5 - Premium Multi Purpose Compost 50 Litre Bags
BNM-7754D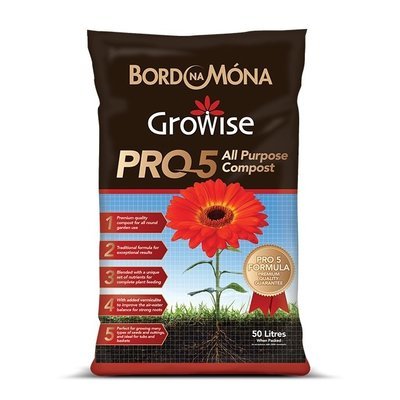 Compost & Manures
Price :
52.49
GBP
In stock
[tab name="Description"]
Growise Pro 5 All Purpose Compost - 50 Litre Bag
Pro 5 multi purpose is a superior blend of Irish Peat, sustainable peat free ingredients, vermiculite and a wetting agent with added plant nutrients to produce a premium compost suitable for all uses from germinating seeds, growing on seedlings, and tubs and baskets.
The sustainable ingredients provide natural nutrients and bigger brighter floral blooms, while the vermiculite helps to optimise air:water balance around the roots and the wetting agent helps retain moisture in the compost.
Premium quality compost for all round garden use
Made from a traditional formula with added nutrients
Complete plant feed from our unique set of Pro 5 Nutrients
With added vermiculite to improve air : water balance for the promotion of strong root systems.
Contains a wetting agent to assist water retention and prevent drying out.
Suitable for seeds and cuttings through to tubs and baskets.
[endtab]
[tab name="Delivery"]
The bags of compost are delivered on a pallet, on curtain sided lorries with a tail lift and pallet trolley and are only guaranteed to the kerbside. Please note items may be delivered in multiple deliveries.
See our delivery details page for more information on our delivery service and Terms and Conditions.

Orders can be delivered next day if placed before 1pm Monday to Friday & next day delivery is selected, we can also deliver on Saturday mornings, Sat Am option must be selected in the checkout.
The order cut off point is 1pm each day Monday to Friday (we only dispatch goods Monday to Friday).
[endtab]
Uses::Vegetables, Potting, Planting, Seeds, Tree & Shrubs
Pack Sizes::50 Litre Bags
Peat?:Reduced Peat
Available Next Day:Yes
5 x 50 Litre bags (0)
10 x 50 Litre bags - £7.99 /bag (0)
15 x 50 Litre bags - £6.99 /bag (0)
20 x 50 Litre bags - £5.75 /bag (0)
30 x 50 Litre bags - £4.75 /bag (0)
40 x 50 Litre bags - £4.50 /bag (0)
50 x 50 Litre bags - £4.50 /bag (0)
60 x 50 Litre bags - £4.50 /bag (0)