Farm Yard Manure 50 Litre Bags
Happy-FYM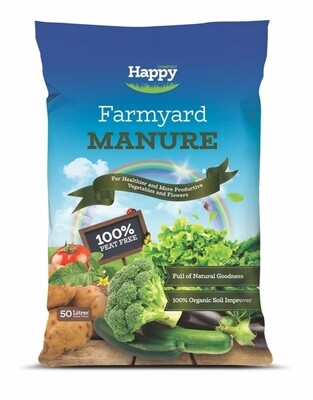 Manures
Farm Yard Manure
A nutrient rich 100% organic and eat free soil improver.
Suitable for:
Soil Conditioning / improving
Vegetable Growing,
Tree, Shrub and Rose Planting
Improving Vegetable Beds
Benefits:
Lightens heavy soils, improving drainage and increasing nutrients, Improves moisture retention and fertility in light soils, promotes root growth.
How to Use Farmyard Manure:
Soil Conditioning - Spread a 5-10cm (2 to 4 inch) layer over existing flower beds, borders or Vegetable beds and worth into the soil with a spade or fork.
Rose, Shrub & Tree Planting - Dig a hole twice the size of the root ball of the plant you wish to plant, mix the excavated soil 2:1 with farm yard manure and use to back fill the root ball when planted.
Uses:Soil Improving, Vegetables, Tree, Rose & Shrub Planting
Pack Sizes:50 litre bags
Peat?:Peat Free
Available Next Day:Yes
10 x 50 Litre Bags £9.36 / bag (0)
20 x 50 Litre Bags £5.82 per bag (0)
30 x 50 Litre Bags £4.64 / bag (0)
40 x 50 Litre Bags £4.23 / bag (0)