Border Blend Topsoil Bulk Bag
NW-Topsoil-2-BB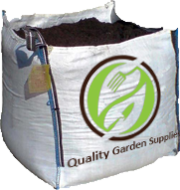 Topsoil
Border Blend Topsoil
A beautiful blended topsoil perfect for creating and topping up flower beds and borders. This topsoil is a dark, fine and friable organic rich loam, full of essential plant nutrients.  This soil has been screened to 10mm to remove any lumps and stone.
Our Bags contain a full 1 tonne and are delivered on a pallet.
Details:
Dark Rich Blended Topsoil
Perfect for Flowerbeds and Borders
Screened to 10mm to remove stones and lumps etc
Full of Essential Plant Nutrients
Delivered in a Bulk Bag on a Pallet
Topsoil is delivered on pallets, on curtain sided lorrys with a tail lift and pallet trolley. See our delivery details page for more information on our delivery service.
Best For::Beds and Borders
Can be used for::Turfing, Potting or any other topsoil use.